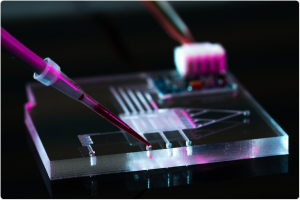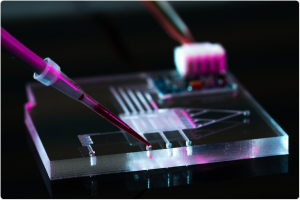 Impressive research relating to Alzheimer's disease (AD) research on a microfluidic platform recently emerged from the Cho group at the University of North Carolina at Charlotte and the Tanzi group at the Massachusetts General Hospital & Harvard Medical School; it was published in Nature Neuroscience and highlighted in a News Medical Lifesciences article.
The work describes a flexible microfluidic system that allows the effectiveness of different AD treatment drug compounds to be evaluated based on the responses of different types of brain cells, particularly the microglia cells involved in the brain & CNS immune response.  The microfluidic device contains 2 chambers, one with neuron cells and astrocytes, and the other with microglia.  Reduced microglia 'recruitment' by the other cells, as visualised in the channels between the chambers, via excreted cytokines by the neuron and astrocyte cells indicates reduced neuronal damage and, presumably, reduced loss of memory or other mental capacity.
There are over 3000 approved drug compounds for treatment of Alzheimer's disease, according to Joseph Park, first author on the research paper, so evaluation in a representative biological and disease environment such as created in their chip is crucial.  Human trials are lengthy, expensive and carry risk for the participants.  Selection of the most promising candidates for drug therapy through understanding their interaction with brain cells in this microfluidic system offers promise to accelerate the pace towards effective treatments of Alzheimer's disease.